Pikky | iOS/Android Instagram-like Social Media Application
Pikky is a smart application for the ones who are looking for a great solution to create amazing applications like Instagram. This will let you post videos, pictures, and will help you to build a nice community of influencers, media lovers and entertaining people.
Pikky; A great application to consider
Pikky is a complete working template that includes source code and user interface for sharing videos, pictures and to find cool people all around the world. With this application, users can comment, like and share, posts o social media platforms, SMS and Mail with ease. Most amazingly, users can also edit their profiles, block unwanted users, turn off comments, mute posts which they don't want to see and much more than this. Even more, the admin can also check the databases on a regular basis to check reported content or users and can take appropriate action on it. The entire design of the project is well-clean, code is commented. Even more, the entire project and files which you will get will be well-managed. To understand how you can configure the features and templates of databases, you can get help from its online documentation.
Video Preview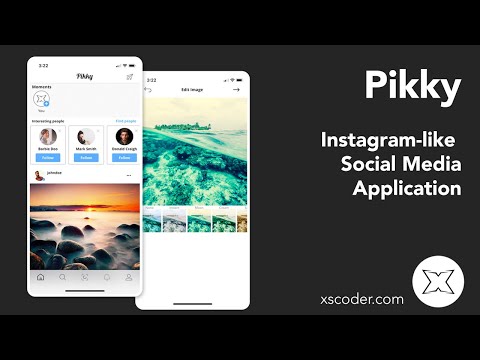 Where can I purchase the template?

Documentation
Android demo (APK)

How can I use the template?
Please follow the process below:
Purchase the app template on CodeCanyon
Download the template documentation
Open the project on XCode
Clone the app template backend on Back4app
Connect the backend to Xcode
Run the app
Backend of application
This application is containing parse-based backend services and is being hosted by Back4App servers. Most interestingly, no MySQL database is involved in this project. However, when it comes to backend services, then it is a well-known fact that Parse Server is an effective, reliable, flexible and open-source Node.js based solution which is being supported by a huge community of developers. While on the other hand, Back4App is one of the most amazing BaaS hosting solutions that can allow you to configure push notifications, databases and other amazing range of features in a simple way. If you are looking for better opportunities to use a nicer admin panel to manage the data of your databases than a parse dashboard then you can easily create your own admin panel for this parse application.
Amazing features of Pikky
Do you want to know what are the most amazing features which you can find in Pikky? Well, here are some of the most interesting options which you must know to get a better idea.
The iPhone version is a Native XCode project. You can easily edit this template as per your own needs with the help of Xcode and iOS swift language.
The Android version is a Native Android Studio project developed with Java/XML language.
This is a universal application that will support all iOS / Android devices.
Application is built on the most reliable, flexible and scalable Parse server hosted by Back4App. This offers so many features that are super easy to set up and create.
In the home screen, you can follow users and can see the content which is being submitted by someone. You can also see the posts of the ones whom they are following along with their own images.
This application also allows you to enjoy the instant messaging feature and will let you communicate with someone via private chat.
The home screen of this application will also display interesting people's suggestions in a grid view. Users will be able to follow them directly from this available list.
Admin can also set verified users but only admin can perform this task. To verify a user admin has to set a Boolean flag only in the parse dashboard.
This application also offers people control commenting. They can easily turn on and off comments for the content they are sharing.
Along with adding content, users can also get a chance to delete or edit their posts with ease.
Moments is an amazing feature that will help the users to record and share videos for 24 hours only. These videos will be deleted automatically from the database after 24 hours.
Users can also mute posts of some selected users.
Like, comment and bookmarking are the most important social experiences which you can also enjoy here.
If you want to search for something then there are different ways to do this. You can search by usernames, tags, and keywords.
The application will allow you to record videos and take square pictures. You can also apply filters to your images.
On your notification screen, you can see like, comments, your followers, etc.
A custom screen will let users see their data or information.
The template contains terms of use file too which admin can edit as per needs.
You can sign up or log in to Facebook through the intro screen quickly.
With push notification features, you can receive notifications of comments and likes.
You can earn some revenue with advertisement banners.
Icons of the application are stored in the PSD folder to ensure easier image replacement.
Requirements you need to know
You need an official and latest XCode version. Beta IDE versions are not able to work properly. Therefore, avoid to use that. -If you want to get benefit from updated templates then it is highly important for you to keep updating your mac computer to the latest versions.
If you want to publish your application on the iTunes/Google Store app store then you must have an app developer account by Apple/Google with active development program settings.
Although it is not necessary to become a skilled programmer to use this application. But if you want to make some basic changes in this application as per your needs then it is important for you to learn the basics of Swift language and XCode.
Although you can easily edit and create a Parse database and app but to utilize all of the necessary keys it will be better to sign up for a free Back4App account.
You need an active AdMob account to display ads.
It is always recommended to test your application on a real device. It is because virtual devices are not always reliable.
Extended license
According to Envato Marketplace Terms, if your application will charge any money then you must buy an extended license otherwise you can go with regular licenses only. However, if you are integrating any payment gateway, or want to transfer live application into your own version then you must get extended licenses for this.