Z Store: An iOS/Android E-Commerce Shop Application with PayPal SDK
Are you looking for the best solution which can help you to build an effective eCommerce application quite quickly and let you display your products to sell? Well, there is no need to go anywhere else. It is because Z Store is the best option which you can choose in this regard. Z store is an innovative yet great solution which is meant to help the users to build a mobile ecommerce store to display and sell your products with a perfectly designed user-interface.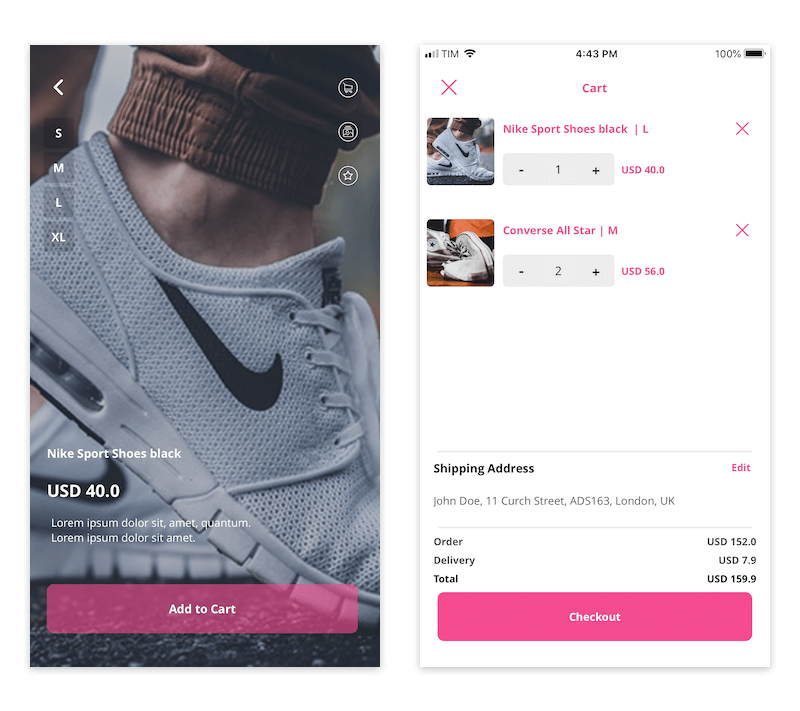 What is Z Store?
Z store is a complete working template which includes source code and attractive user interface for the users who want to sell their products. This application will let you get paid through PayPal. Most importantly, it can also let you offer cash on delivery option. Well, in both payment options buyer and admin will receive email with order details. This will also let the admin know whether payment has been made via PayPal or buyer has selected the option of cash on delivery. Most importantly, this application will let the buyer edit his profile. A user can add name, user name, shipping and email address, etc. Even more, users can also write feedback about the products which they have received or even can see the feedbacks or reviews of previous customers before making any purchase. The product screen of the application comes with a full screen display which will show the first picture along with the gallery, product reviews, Wishlist buttons and cart option. The entire design is quite clean and attractive. Most amazingly, the code of the application is properly commented. You will also get well-organized project files and folders in this package. You can also read its complete documentation to know how you can configure the features of the templates and parse databases.
Where can I purchase the template?
iOS Version

Android Version

How can I use the template?
Please follow the process below:
Purchase the app template on CodeCanyon
Download the template documentation
Open the project on XCode/Android Studio
Clone the app template backend on Back4app
Connect the backend to Xcode/Android Studio
Run the app
Customize the app
Backend details

Z store is containing backend which is being hosted by Back4App. It is based on Parse Server. However, no MySQL based database is involved in this application. The application is based on parse server because it is flexible, open source and reliable. Even more, it is based on Node.js and is being supported by a larger community of developers in a more effective way. Back4App is providing amazing BaaS hosting services and will let you configure your push notifications, databases, and other amazing range of features with just few clicks with ease. Most importantly, you can also manage data of your database in a more effective way then you can also go with the option of admin panel instead of using parse dashboard with ease. Just create a panel for your Parse applications and go for it for more ease.
Amazing features of this application which you must know
Here is an amazing range of features which are essential for you to know:
Native XCode Project which can let you edit template as per your needs with iOS swift language.
Native Android Studio Project which can let you edit template as per your needs with Android Java language.
Universal application which you can run on any iOS/Android platform.
Built-in features include push notifications, Search products, Add or modify categories or products, add featured products, etc.
Track order history to keep a list of your orders, shipments and other information about them.
T Of Use and Privacy policy (GDRP complaint) are included. However, admin can also edit tou.html file to add or remove constraints with ease.
User can log in or sign up Facebook from the intro screen of application.
Braintree PayPal SDK is also integrated to ensure secure payment options.
Attractive user interface can let the buyers use applications and search and view products with ease.
PSD files contain the entire images which have been used in this application.
Push notifications will allow the users to send custom notifications to entire users.


System Requirements
Latest official XCode version Beta versions of IDE normally don't work properly. As the code of this application has been written with latest XCode version. So must use it for your applications instead of beta versions.
A Mac computer
A mac device with the latest iOS version is also required. It is because technology keep growing with time. So, it is important to update your templates every time with the release of OS updates.
Apple/Google developer account
An apple/google developer account is needed to publish your applications on iTune App/Google App store. Although you can edit your code without app developer account but it won't run on your real device.
Basic XCode/Android Studio and Swift/Java language understanding
Although skilled or professional knowledge is not required for this application but still, it can be better for you to have some basic understanding of Swift/Java language and XCode/Android Studio. It is because this will let you deal with the things more effectively.
Free Back4App account
If you want to create or edit your parse databases and applications then you must have a free Back4App account to get essential keys for testing and configurations. Although it has some limitations but in most of the cases it can work perfect with ease.
A physical device for app testing
In some cases, iOS/Android simulators fail during app testing. Therefore, it is important to run your application on a real device instead of a virtual one before submitting your application on App store.
PayPal account
To get paid through this application, you must have a verified PayPal account to get more advantages.
Production and Sandbox Braintree account
As PayPal SDK has been moved to Braintree to bring better payment offers, therefore, you have to create account for Braintree.
Hosting server
A hosting server is required with PHP 5.6 or higher enabled. Do not go with the free hosting providers for this.
Licenses
According to Envato Marketplace Terms, extended licenses are being applied to the applications which are charging money from their users. However, if users will not be charged for application use then the admin still have to buy regular licenses for this. Therefore, it is important for you to buy this application under extended licenses if you want to add in app purchase options, or want to publish this application as a paid option on App store.
However, buyers are never allowed to share or sell original code of this application.