Bazaar | iOS/Android Social Listings/Classifieds Shopping Application
The bazaar is an amazing application for the ones who want to build an attractive application quickly where they can list their used or new items for sale. A huge community can browse these ads and can communicate with the owners of products to agree on purchase and payment terms.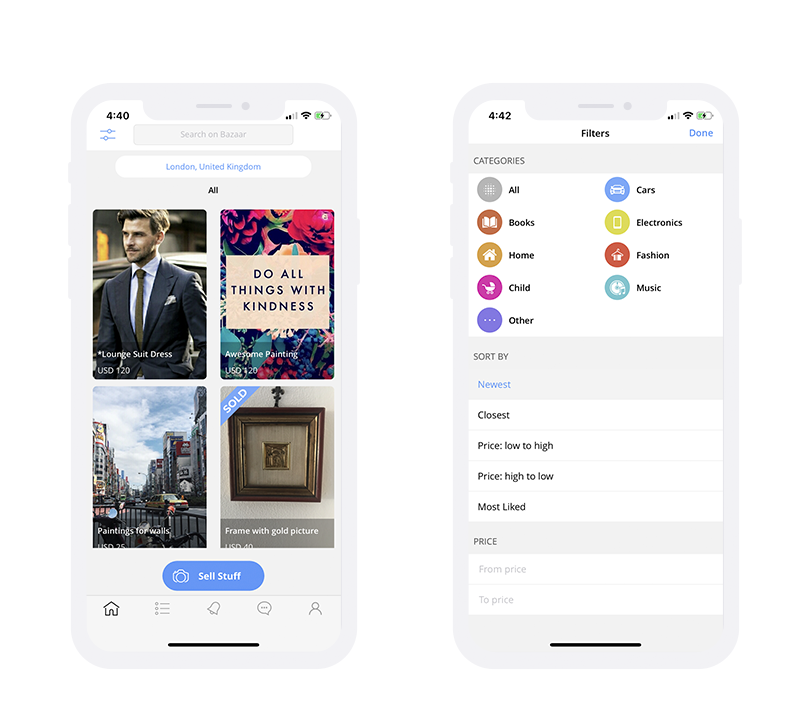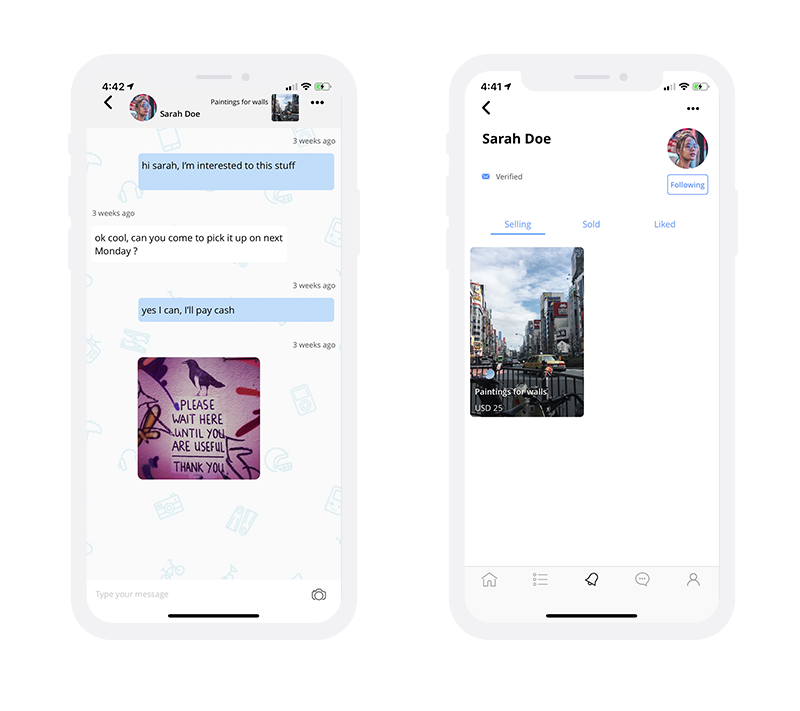 What is Bazaar?
The bazaar is a complete template that includes user interface and source code to post ads and browse them from anywhere around the world. This is an amazing source that will let you find cool and attractive stuff to sell in the best possible way. This application is also offering the feature of social sharing. With this amazing feature, people can like and share their favorite items to multiple social platforms. Even more, it will also allow the users to communicate with the sellers of their required items to know about the price, shipping and other specifications of the products. Communication options between buyer and seller will help the people to stay stress-free and make a better decision about their purchase in the best possible way. Most importantly, the android, iOS and Php versions of the application will be able to share the same databases on Back4App without any problem. Even more, the admin will also be able to check the reported content directly and can investigate data available in the database and take any action as per the need of the time. However, when it comes to the design of the application then it comes with a clear and clean design and the entire code is commented properly to provide the users a better understanding of the things in this regard. You will get properly organized project files and folders in this package. Well, this application comes with an amazing range of features. To understand how to configure the features of the database and templates properly, it is important to read the available documentation.
Download & Purchase the App Template
iOS Version

Android Version

How can I use the template?
Please follow the process below:
Purchase the app template on CodeCanyon
Download the template documentation
Open the project on XCode/Android Studio
Clone the app template backend on Back4app
Connect the backend to Xcode/Android Studio
Run the app
Customize the app
Application backend

The backend of this application is by Parse Server which is being hosted on Back4App. However, it does not include any MySQL database. As the Parse server normally provides more flexible, open-source and highly reliable solutions which are based on Node.js, therefore we prefer to use this as a more effective BaaS solution in the application. Even more, this platform is being supported by a larger community of developers. While, on the other hand, Back4App is a well-known and most trusted BaaS hosting website which is being considered as the most reliable solution to host parse-based applications. It can help you to configure your databases, push notifications and other amazing features with few clicks only.
Features which are important for you to know:
Native Xcode project: You can edit your application template with the power of XCode and Swift.
Universal Application: This application can be run on any of the iOS devices with ease.
Browse your favorite stuff: you can browse items from people you have followed. From the home page, you can easily browse your required ads with ease.
Email verification: this application will send the users a verification link through email once they have done the signup process. Verified addressed users will be displayed in their profile.
Communicate with sellers: if you want to buy an item then you can easily chat with the seller to ask about the product details with ease.
Edit or alter your location: To post ads or buy something through this application, you can easily search for ads from any place. You can use the built-in map of the application to select any location or just add an address to fetch listing items accordingly.
Manage your ads: From the page of Listing Info, you can easily edit or delete any of your ads.
Report inappropriate ads or users: If you are finding any content offensive or inappropriate then you can flag that content. So that admin can take required actions after checking these reported items in the database.
Notifications: The notification screen will let you check likes and followers on your posted ads. You can also get the user profiles here.
Like your favorite listings: if you want to save your favorite ads you can add them into liked ads. However, you can also search your required ads with Keywords.
Review your account info: This account information will let you see ads that you have been posted and the ones which have been sold or liked by users.
Settings: Application's settings option will let you edit your profile biography and avatar picture. You can also log out of the application.
Online documentation: If you want to configure this application properly, then it is highly recommended to read its online documentation for better understandings.
PSD file: This package also includes a PSD file that will have icons and images which have been used in this application.
System requirements
Users are required to have the latest official XCode version to check the proper working of IDE. Because Beta versions can never work 100% effectively.
A Mac computer is required with an updated iOS version.
If you want to customize this application template then it is important to develop a basic understanding of XCode and Swift language.
If you want to run this application on a real device or want to publish an app on the App store then you need a Team ID or an Apple developer account with an active iOS developer program.
To edit your Parse App and databases you must sign up for a free Back4App account.
When it comes to testing your application then you must know Apple simulators do not work properly every time. Therefore, it is always recommended to rely on a real device for proper testing of your application before publishing it.
You also need to get an active AdMob account to display ads in this application.
Extended licenses
According to Envato Marketplace policy, for all applications which will charge money from users, it is important to apply for extended licenses otherwise you can also go with regular licenses. So, if you want to publish a Paid app version on the app store, transfer live app of your version or using a payment Gateway in the source code of application then extended licenses are essential for you.