Wally | Wallpapers App Template for Android/iOS
Wally is one of the most amazing universal application templates. This amazing application template is meant for wallpapers. Users can search their required wallpapers and can save them onto their phone library with ease. Even more, they can also utilize these images as wallpapers to their devices. Most amazingly, users are also allowed to submit their favorite and new wallpapers to the admin of this application to get approval. However, the admin of this application has to do a simple step of switching isPending variable into the False one in the Adminca.com or parse dashboard whichever of these options you are using. This will make the submitted wallpapers visible on your application with ease. Well, this is clearly defining that using this application template is super easy.
However, when it comes to the backend of this application template then you must know the fact that its backend is by Parse Server. Most amazingly, there is no need to buy a hosting or domain for this application. It is because it does not contain any PHP files to host on the server.
Well, Wally is an amazing application which is actually an XCode project that has been written in the Swift programming language. However, Parse SDKs are being hosted on back4app servers. The entire template is quite easier to customize and includes a well-written user's guide for a better understanding of things.
Video Preview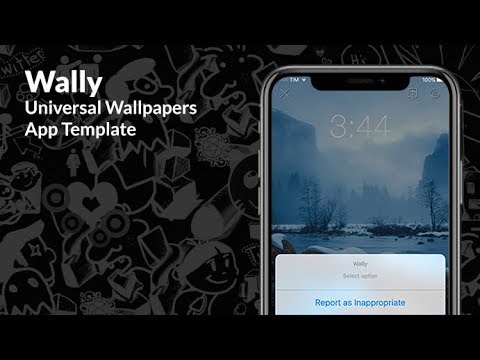 Where can I purchase the template?

Android demo (APK)

Amazing features of Wally
This template is the XCode 64-bit project which is written in swift.
A universal application which supports iOS 8+
AdMob banners can be included to earn some extra
Based on the parse server which is hosted on back4app.
Users can submit new wallpapers to get approval with a spontaneous user interface
Admin can approve or deny the wallpapers which have been submitted by users.
Update wallpaper categories through parse dashboard or Adminca.com.
Search wallpapers for required categories.
Users can sign up or log in to this application to add or like their favorite wallpapers.
A PSD image folder and pdf user guide are included in this package for better understanding
Easier to customize
Properly commented code.
Requirements you need to know
To use or edit this application template you must have a mac PC with the latest operating system installed. Along with this you also need to have access to a free back4app account, a photo editing software, and AdMob account to generate your personalized Unit ID banner. Even more, you must have XCode's latest official version and basic user interface knowledge to edit this template. However, if you want to submit this application on App Store then you must have an Apple Developer account.
You must buy this template under extended licenses if you want to upload your own version of this application as a paid application on the app store. Also, if you want to add a payment gateway or planning to sell this on Flippa.
FAQs:
· What's about support services?
We will offer free support services to fix any encountered bug in the original code. However, to fix your messed-up code, you may have to pay some money for our support services.
· Which XCode version is preferable to install?
It is always necessary to go with the latest official XCode version for better results.
· Is it possible to host the Parse server on my personal server?
Yes, you can host it on your own server but we don't provide support services for that setup.