ToDoo – To Do App Template
ToDoo is a universal application template much similar to Wunderlist. This application will help the users to create unlimited lists where they can add unlimited to dos in the lists. Users can edit the list and their to dos, whenever needed. Even more, along with adding to do lists, users can also set their local notifications which will ring on your device at the specific time which you have set in that. However, users can also create and edit their profiles with full name, email address, and an avatar. Even more, users can also set their own background for to dos and even can reset password if needed with ease.
Add Tasks
Set reminders
Create recurring tasks Well, ToDoo is a native application template which is based on Swift/Java programming language. This is a universal XCode/Android Studio project which is extremely easy to customize. However, when it comes to the background of this application then its backend is empowered by Parse SDK which is hosted on one of the most reliable and highly scalable server back4app. Most amazingly, as the backend of application is based on Parse Server then it means it contains no PHP profile. Ultimately, you do not have to buy any hosting or domain for this. License which you need According to the rules of Envato, you have to purchase this application template under extended license if:
You are planning to upload your own version of this application as paid on the App store.
You are going to add in-app purchase option to your application.
You want to sell your customized version of this application on Flippa or any other similar market.
Video Preview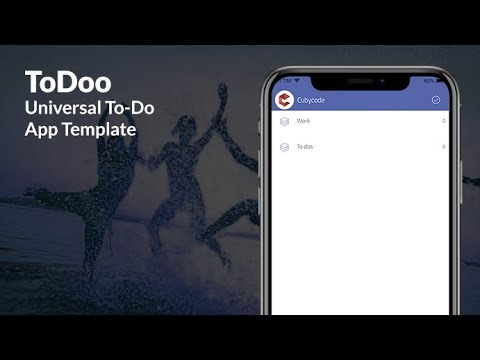 Where can I purchase the template?

iOS Version
iOS Universal To-Do App Template (Swift)
Application features which you must know Here are some key features of this application which you must know:
This template is an XCode 9x project which has been written in Swift language.
This is a storyboard, universal application which supports iOS 8+.
AdMob Banners can be added to earn some money
Backend of this application is based on Parse Server which is hosted on Back4App.
Users can create or edit a to-do list.
Users can set notifications as reminders as per their needs.
You can admit the info of user.
Users can also set their own background for to-do lists.
PSD graphics folder and PDF user guide is included in this package
Complete code is properly commented for easier understanding.
Easy to customize template
Requirements
To test, edit, open or publish this template you need to have the following things:
Apple Mac with latest OS installed on it.
Latest XCode version.
User-interface's basic understanding.
An active Apple developer account to publish application on App Store.
AdMob Account for your own UNIT Banner ID
Free back4app account
FAQs
Which XCode version is preferable for this template? All of our projects are updated to the latest IDE version. Therefore, you are also recommended to install latest XCode version to edit this template.
What about support services?
We offer free support services to fix any error which is encountered in the original code. However, if you have edited the code and then something happened there, at that time you will be applied with some fee to fix the errors.
I am getting a sign in error in Xcode 8.x, what is it?
This is a bug of XCode 8x with macOS Sierra, which can be fixed easily.