InstaQuotes | Universal Social Quotes App Template for Android/iOS
Are you in love with authoring, making memes, and writing quotes? Well, now you can use your talent in the best possible way by sharing memes and making your community of fans and that within pause of a twitch. Yes, I am serious. No, no I am not talking about to make a facebook page because there you can easily be a victim of data theft and people can steal your creativity. The idea is a bit different that comes with InstaQuotes.
Download & Purchase the App Template

What is InstaQuotes?
InstaQuotes is a well-coded template of an iOS/Android app in where you can make your own community as an author of the quotes. You can make quotations, share them, search for other users, follow, like, and block users. In short, you have all the feasibilities of using InstaQuotes with ease.
Video Preview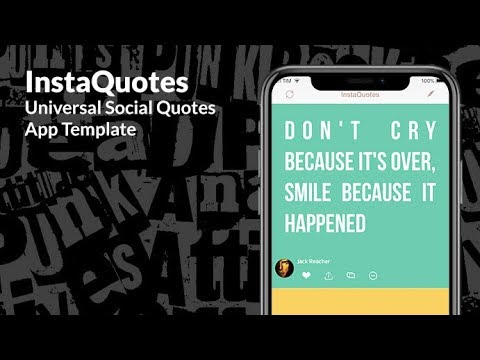 How does InstaQuotes Work?
InstaQuotes is a well-written and well-coded template of Native XCode/Android Studio in swift /java language. Hence, anyone having basic knowledge of the Native XCodes / Android Studio, can customize the app and add or remove features from it to make it super customized. ##iOS Version
Universal Social Quotes iOS App Template (Swift)
Features for InstaQuotes:
Here are some of the best features of the InstaQuotes | Universal Social Quotes iOS App Template (Swift):
Latest Xcode version, swift language, 64-bit
You get universal story board of 8.0 or above iOS version
You are able to create Admob banners
You can dd your own terms and conditions
It comes with a complete guide
It comes with all features of like, commenting, following, and blocking. Requirements for InstaQuotes: You need to fulfill following requirements:
Latest Apple Mac
Latest Xcode versoin
Basic knowledge of swift
Official developer account
Official Admob account for UNIT ID
Free-Account on Back4app.com Extended License:
If you want to earn from this app such as by posting it on app store as a paid content, or want to gain add ads into it, or simply in-app purchases, you need to have extended license with you.
If your aim is to just post your app on app store and nothing to do with earning, you can use and customize and upload this app under the regular license without any sort of issue of problem. FAQ:
I Want To Host Parse Server On My Own Server, Can I?
Yes, it is possible and for that, you should go through the official guide of server transfer.
Can I get support with InstaQuotes Template?
Well, on the way of customization, you surely get support for the original template codes.
Why I need Latest Version of Xcode to use InstaQuotes?
This is because the app templates get regular updates to bring best experience for users.
Important Note:
Well, the codes and templates are all sole property of the makers and any person, company, group, or business has no right to resale codes with or without company's permission. On violation, serious sort of cyber acts can be taken against them along with deletion of their app for the store and paying penalties.