Photofeed | Social Photo Feeds App Template for Android/iOS
Photofeed is an amazing universal application template which can let you post your own pictures. Even more, you can also add your location, relative text captions, and can interact with an amazing yet funny community with ease. This is a kind of social media application where you can not only post your own content but can also browse and see popular posts, pictures and other kinds of content from other users of this application. Even more, you will also be able to see profiles of other users and can like and share their content on other social media platforms with ease.
Most interestingly, this application is based on Parse Server due to which you do not have to buy any hosting or domain service. It is because this template does not include any PHP files which you have to upload on any web server. So, this is surely going to let you save some money from this side. Its parse SDK backend is being hosted on back4App already.
Photofeed is an amazing application which is actually a native XCode project and has been written in Swift language. This is a universal template which you can easily run on any of iOS device. Most importantly, this is a storyboard and higher easier to customize template which is surely going to be favorite of the buyers.
Images from iOS version
Video Preview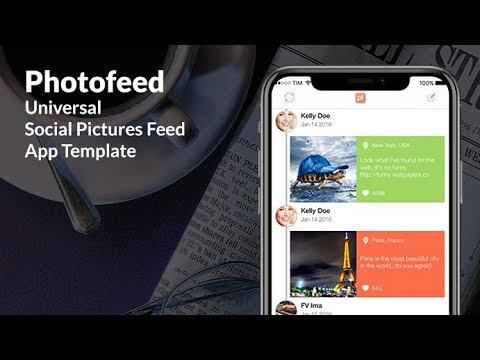 Where can I purchase the template?

Amazing features of Photofeed which you must know
Here are some of the most amazing features of Photofeed which are highly important for you to know:
This application template is an XCode 9x project which has been written in a Swift programming language. Even more, it is a 64bit project.
This application is a native storyboard and universal project which can support iOS 8+.
It also includes AdMob banners.
Facebook integration.
It features push notifications for comments, likes, follow and share content.
This template works with Parse server-based backend hosted on Back4App.
Users can post their own pictures, current location, text and even can like, comment and share others' content.
If you do not want to keep your posted content for longer you can also delete that from this application with ease.
To keep the application well and cleaned users can also report inappropriate user and content to admin.
Terms of services file are included in this package which admin can easily modify as per needs.
A user guide is included which can help you to set up and customize this application template with ease.
PSD graphics folder is included to ensure easier image placement.
The entire template is easier to customize.
Requirements to know
To open and customize this application you must have a Mac device with the latest OS version installed on it. However, if you want to edit this template then you must have some basic knowledge about its user interface and latest official XCode version. To edit or customize images you need to have a photo editor such as Photoshop. Even more, an Apple developer account is also important to submit your own application on the App Store. While, if you want to earn some extra then you must have an AdMob account to generate your own unit ID Banner. To access all of the essential features you must sign up for a free account on Back4App.
Extended licenses
If you are planning to publish this application as your own paid version then you must get this under extended licenses. Even more, extended licenses are also necessary for you to get if you are planning to add any payment gateway in this or want to sell on Flippa or similar to another market.
FAQs:
· Is it possible for me to host the Parse server on my personal server?
Well, you can host the Parse Server on your own server. To know essential steps you can visit the official guide.
· What's about support services for this template?
To remove any error in the existing code, buyers will be provided with free support services. However, if you have messed up with the code while editing it, then you might have to pay to get support services.
· I am getting a Code signing error in my XCode 8x, what is this?
It is essential for you to install the latest official XCode version to customize this template.