YouNews – News App Template for Android/iOS
YouNews is a universal application template that will allow the admin of this application to add or edit news via Parse Dashboard which is hosted on back4app or at Adminca.com which is a free CSM panel used for Parse applications. Admin can display the news right away in the application. Even more, they can send push notifications via parse push console to entire registered devices. While, users are allowed to like, comment, or share news. However, it is necessary to sign up or log in to an account for likes and comments. Even more, users can also contact admin via email or can rate this application as per their experience. Users can also report inappropriate users or news on this application and admin has to check this application regularly to take actions on reported content. When it comes to a category then you must know that names and images of categories are stored within the XCode /Android Studio project locally. However, a well-written guide is included in this application which will let you know how to configure this application, its backend services and how admins can edit or add categories.
Video Preview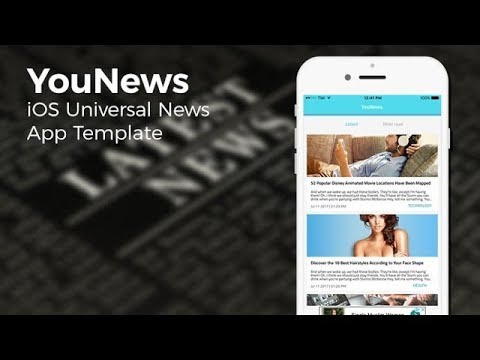 Where can I purchase the template?

iOS Version
iOS Universal News App Template (Swift)
The license you need to get
As per rules of the Envato market, you have to buy this application template under extended licenses if:
There is an in-app purchase
You want to sell this application on a marketplace like Flippa
You want to publish your own version of this application on the app store.
Features of YouNews
This is a native swift based XCode 9x project (64-bit).
AdMob Banners are included
A universal application to support iOS 8+
Admin can add or edit news to display in this application
Admin can also send push notifications to entire registered users.
Users can like, comment and share news
Admin can also add YouTube video header and image for details screen of news
Users can report or delete comments
PSD graphics folder and pdf user guide are included.
The template is super easy to customize
Well commented code for better understanding.
System requirements to know
For this application template you require:
An Apple Mac with the latest operating system version installed
Latest official XCode version installed
Some knowledge regarding user-interface
Any image editor software
An Apple developer account to publish this application on the App Store
An AdMob Account for your own Unit ID banner
Access to free back4app account
FAQs
Can users host Parse Server on their own server?
Yes, users can, but we do not support the process of this setup. However, you can get help from the official guide in this regard.
What is this signing in error in XCode 8.x?
This is an XCode 8x error which normally happens with macOS Sierra, you can fix that with ease.
What about support services for this template?
We offer free support to our buyers if any bug will be encountered in the original code. However, if you have messed up with the things while editing this template then you might have to pay for support services.
Which XCode version will you recommend editing this application template?
AS our entire template is updated with the latest IDE version, therefore, you are always recommended to install the latest official XCode version.