Lingochat | Android/iOS Universal Language Exchange Chat App Template
Lingochat is one of the most amazing application templates which can help you to search for foreign people to communicate with them in order to exchange knowledge of the language. You will be able to search here for friends by selecting your preferred languages in the available option of the search screen. Even more, you can also send a friend request to the selected people and wait for the preferred people to approve. You as a user will also receive push notifications for accepted friend requests or received messages. Even more, users can also block or report inappropriate content or user to keep the application clean and effective in the best possible way. Lingochat is a native project of Android studio which is easier to customize and can be a fun application to utilize. This is a universal application whose backend is based on the Parse server which is hosted on back4app for effective uptime.
Video Preview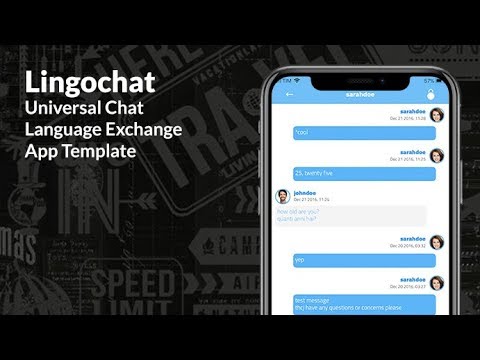 Where can I purchase the template?

Android demo (APK)

License
When it comes to knowing about the license you need to get with this application then you must understand the fact that you need to buy this application under an extended license if:
You are planning to submit your edited version of this application as a paid application on the App store.
You are adding an in-app purchase option in this template.
You are planning to sell your customized version of this application on Flippa or any other similar place.
Features you should know
Here are some of the key features of this application which you must know:
This is an android studio 3x project which is compatible to utilize for android version 5 and above.
This is a universal application.
AdMob banners are included which will let you earn some extra money by showing ads with ease.
The backend of this application is by Parse server, hosted on back4app.
Users will receive push notifications for received messages and accepted requests.
You can also search for people by language.
A pdf user-guide is also included in this project.
PSD graphics are also included to ensure easier image replacement.
The entire code of this template is commented properly
This is an easier to customize template which you can edit as per your needs.
Requirements
Whether you want to edit, test, use, or submit this application, there are certain requirements that you have to follow for this template. Here is the list of requirements which are essential to consider in this regard:
A windows PC with the latest version of the operating system installed on it.
Any image editor software just like Photoshop.
A free back4app account to access key elements of Lingochat's features with ease.
An active Google Developer account is also required along with a Play Store account to submit your own version of this application with ease.
An AdMob account access is also necessary for you to have if you want to create your personal Unit ID banner.
A real Android device with android version 5 or above.
FAQs
Why demo of this application has crashed at startup?
Make sure that you are using this application for the minimum android version which has been listed on the section of features above. However, if you are still facing the same issue then contact us by sending a logcat message which is being displayed there to get an effective solution for the actual problem.
Do you offer free support for this template?
We will offer free support services for any bug encountered in the original code. However, if you have messed up with the code while editing this template then you might have to pay some amount to get that fixed in a proper way by us.