Universal Listings + Chat App Template for Android/iOS
Woopy is one of the best online App templates that offer you lots of amazing features for your personalized app. You can add multiple personalized features in your application by simply browsing them and posting them on this platform. These postings could be new or used that you can purchase from there. Along with these things, Woopy allows the user to search for any kind of category or keyword and chat with the sellers by logging to Facebook or email or share some kind of ads with him/her. Additionally, this platform allows users to upload videos for your project or business that might be helpful for you to attract lot more people. This platform offers lots of other features related to their user management, while those are defined properly below.
Download & Purchase the App Template

Video Preview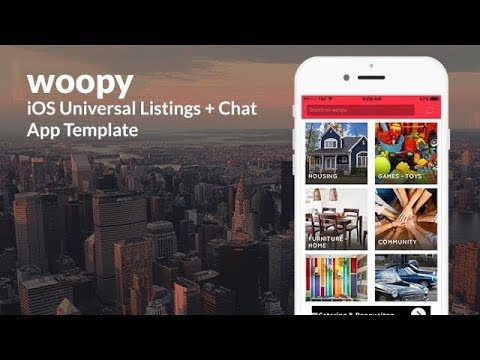 How can I use the template?
Please follow the process below:
Purchase the app template on CodeCanyon
Download the template documentation
Open the project on XCode
Clone the app template backend on Back4app Back4App
Connect the backend to Xcode
Run the app
Customize the app
FAQ - Frequently Asked Questions
Q: Can I host Parse Server on my own server?
Yes, you can easily parse the server on your own server. It is quite easy to task to do with the help of Woopy. Although, it does not offer support to the setup process. So, you will have to do all of this on your own.
Q: How to Remove AdMob banner Ads
Well, removing AdMob banner ads is quite an easy task to do. It does not require any kind of complex procedure to follow. While you can get to know how this thing happens by visiting https://youtu.be/e-HQYnta2Jg.
Q: What about free support for this template?
Woopy offers complete support to the user. It offers all kinds of assistance to remove the bugs that appear in the original code. In fact, if the error does not remove properly and it takes a lot of time to the user to do it by himself or herself, then the professional team working behind this platform contact the user and ask him/her to share his/her to come on TeamViewer, through which team will fix the bug by itself on the user's system.
Q: How do I change the order of Categories?
In order to change the order of categories, all you just have to remove each and every row from the class Categories and then add the rows again in the same order as you like. There is no other way to change the order except this one. If you will try to do it in any other way, then you might face lots of problems and affect the rest of code which might become unable to fix.
Q: How to Change Images in the Categories class of my Parse Dashboard?
To change the image in categories class, you have to double click on the empty space between the blue image button and the edge of the cell. This thing you have to do when you are done importing the Categories.json file.
App Features
AdMob banners
Search by keywords
Browsing ads on the basis of categories
Sort ads according to price, condition or most liked
Block or report ads or users
Requirements
Latest OS version
Latest XCode version
iOS developer account
AdMob account
Back4app account
So, consider all the above-described aspects and make sure to use Woopy if you want to enjoy its incredible features.