MyHotel
If you are travelling or are just looking for an amazing hotel for your vacations in a certain city, you start looking for a hotel through a quick Google search. What if you don't need to use a Google search? What if you don't need to scramble through a dozen different websites that have a random list of reviews of hotels, which you might or might not want to trust? Here comes MyHotel to the rescue. MyHotel is an application template that will help you – the developer – easily develop a unique, and powerful hotel booking & management application. Here are some features of MyHotel that you should know about:
Video Preview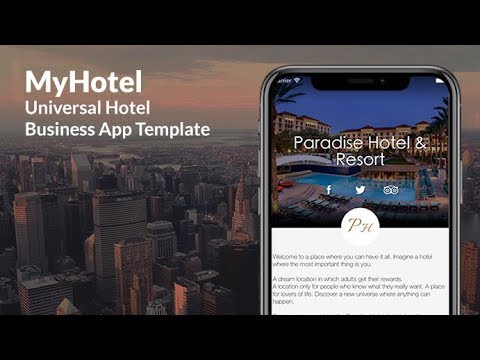 Where can I purchase the template?

Manage your hotel with ease
If you are looking to easily manage your own hotel digitally, the best way to do that is through a mobile application. Everyone has a mobile phone these days. And if everyone does, why shouldn't you – the hotel owner/manager? MyHotel offers different features that should help you for easy management of your hotel:
Add/Update rooms information
Add/Update rooms
Add/Update images
Add/Update roles
Add/Update sessions
Add/Update users And so on. Basically, it is a complete package.
Based on Parse (Back4App)
MyHotel is based on Parse, which means that you should be able to easily access and update information regarding your desired hotel with ease. Maintaining the application itself should be easy too, and you should be able to change the different aspects of the application without having to rely on much technical information. Because it is based on Parse, you should not be needing to rely on domain hosting and additional fees for a mere check-and-balance management system. You can easily manage everything through a single host server that can be set up inside the hotel itself. Back4App is updated on a regular basis, which means that MyHotel is more secure than many other applications that are based on other backends.
Universal
MyHotel is extremely universal and should work with most hotel management systems. You can easily edit the code itself, because MyHotel is technically an application template. By editing the code, you should be able to implement a simple, and effective hotel management application that just works.
In-App Purchases (Extended)
If you are willing to pay for the extended license, you will get the option to add In-App purchases to your own version of the template. This means that the popular option of mobile payment will be available to the customer. This will allow potential customers to pay for their hotel visit like an in-app purchase. This option must be implemented yourself, so be sure to check if you have someone within your reach who is able to properly code.
Single Storyboard
MyHotel has a single storyboard that should be able to help the manager manage all rooms, and content through a single screen. It should be much more efficient than a normal management system, and the manager does not need to worry about messing stuff up.